The project area - The Lippe Floodplain between Hangfort and Hamm
The River Lippe, the northernmost tributary of the Rhine from eastern perspective, runs at the southern rim of the Westphalian bay. Between the mostly agriculturally orientated Münsterland in the north, and the industrial agglomeration of the Ruhr district in the southwest, it works as an important biotope, networking element up to the Niederrhein in the west and the River Weser in the east.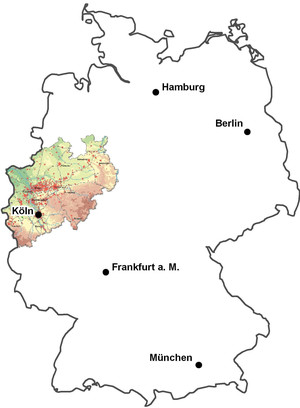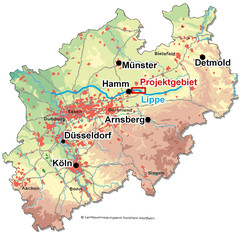 general map of germany and North Rhine-Westphalia: © based on Landesvermessungsamt North Rhine-Westphalia
The project area extends along the River Lippe along the border area between the City of Hamm and the districts of Warendorf and of Soest. It covers the entire FFH area (Habitats Directive Site) "Lippeaue between Hamm and Hangfort" with a total size of 615 ha. In addition, the area is part of the bird protection area "Lippeaue between Hamm and Lippstadt with Ahsewiesen", which extends with a size of 2305 ha beyond the FFH area. It is part of the bird protection area due to its meaning for European-wide protected bird species.

general map of action blocks: © Stadt Hamm, Umweltamt